A "bio" on social media is a place where organizations, influencers and individuals share essential information about themselves. The bio may contain details about the nature of the business, what it sells and contact information.
What is Link In Bio?
The "link in bio" is the clickable URL that visitors use to visit your most desired URL. For some it's a product page, for others it's a landing page or "about us" section.
Most social media make it simple to include links in your bio. LinkedIn allows you to link to your employer's official page; Twitter offers the option to tag other handles in your bio. Facebook also provides a way of tagging interest pages, businesses and other people in your "About" section.
Instagram is the most complex when it comes to the link in bio, and the most common place you'll see this phrase used. Instagram posts don't allow for links. Though you can post links with your captions, the URLs won't be clickable, meaning your customers or followers need to copy and paste the content instead. Instead, individual Instagram posts often direct users to the link in bio.
Instagram only allows for a single link in your bio which is why Linktree swept Instagram by storm when it arrived in 2016 from a team of Melbourne brothers, Alex and Anthony Zaccaria, and their co-founder Nick Humphreys. Their motivation was to overcome the frustration experienced when sharing information with followers on the Instagram app.
How to use your link in bio
Many social media marketers launch their campaigns with the aim to drive engagement and send leads to a product page or website. When people find a brand on social media and decide they want to learn more, they use the link in that company's bio to begin their search.
The social media bio is an important place to generate interest for your brand. Used correctly, your link in bio helps to drive engagement and loyalty among your customers. The great news is that on all social channels, including Instagram, your link may change over time, promoting seasonal offers or new products.
A few ways to use your link in bio include:
Promote a sale or upcoming discount.
Draw attention to a product launch.
Send people to a landing page or lead magnet.
Give additional information about yourself through an "about" page.
Link to your most popular product.
Invite people to get involved with a competition or giveaway.
Send people to a popular blog post.
Direct people to a video or podcast
Offer a free sample of your product
Wondering why you're getting the "Link not allowed" error on Instagram?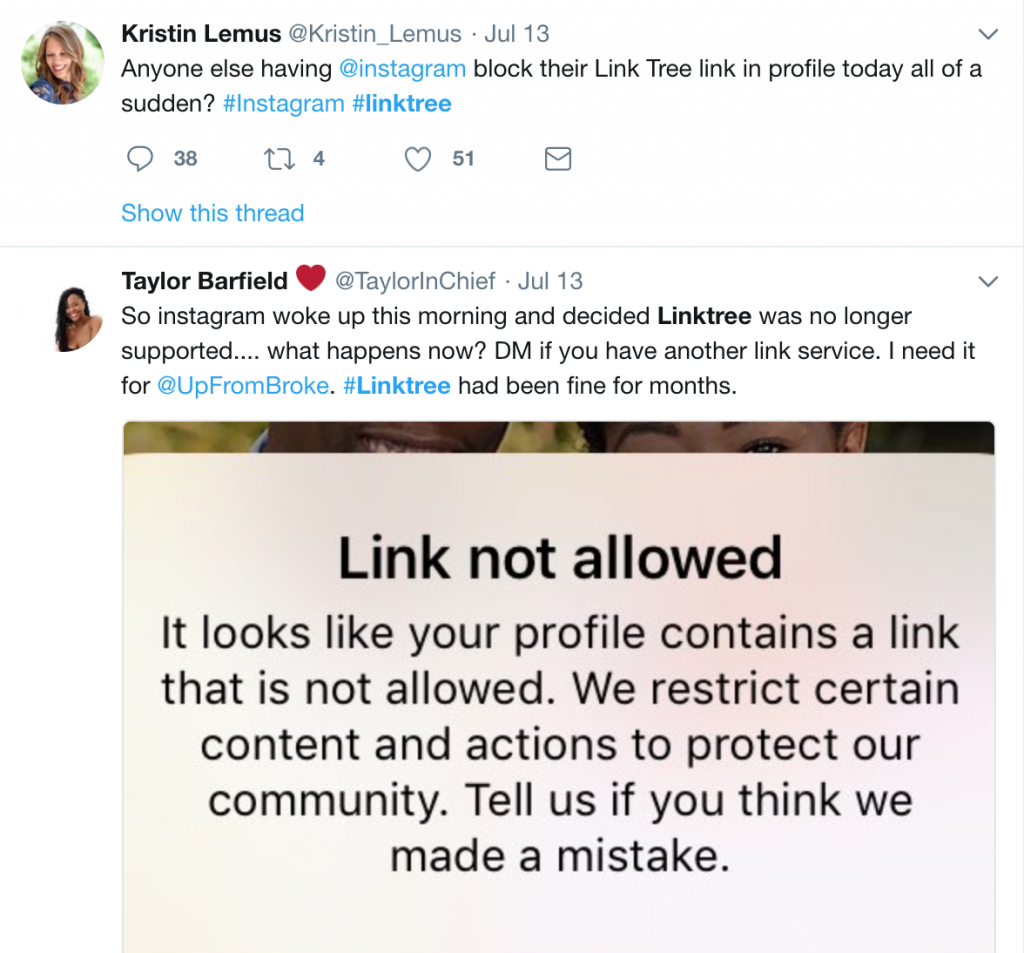 Instagram has become quite cautious with that one precious link allowed in your bio. This is due to the amount of spam accounts they see. Which is why Instagram is continuously making a lot of LinkTree links as SPAM.
Instagram sees linktree as a way to link sites that are not allowed by Instagram. While many people use it innocently, especially businesses and nonprofits, others use it to link inappropriate or dangerous websites.

Megan Newman
They won't allow links to websites with explicit content.
They're blocking links that appear on a number of accounts within a short period.
Shortened links – such as bitly – are suspect since it's unclear what you're linking to.
Funny, fake website names may be blocked (don't use a fake URL).
Domain names using elements or misspellings of Instagram have been blocked.
And in some cases, it may simply be your WiFi connection to Instagram. Really!
This is something that can happen with no notification to you – so your IG bio link could stop working and you would have no way of knowing!
Apart from Instagram blocking, the Linktree website is known to have downtime causing all the links to stop working and your audience is shown an error when they click your Bio link in your social profile and there will no way for you to know that your efforts to drive traffic via your Biolink is not fruitful just because of downtime on Linktree.
Online business is ever more competitive. Being an online entrepreneur you can only one shot to connect with your potential customer via your bio link if the bio link is not working you have lost your potential sale. Over time, I have become less dependent on 3rd party tools & marketplaces (and have learned my lesson the hard way). I don't like to have the feeling that my business is held hostage on the whims and fancies of the provider. As of today, I have zero footprints with marketplaces and close to zero when it comes to 3rd party tools.
When we can have a cheaper and much better alternative to Linktree why depend on linktree for your bio links?
Reason for Not using Linktree
Sacrifice your branding
The free version only has a handful of color schemes. It is most likely that does not fit your branding so you are not creating a cohesive brand experience.
It's an additional step further from your website
The aim of Social Media is to get people to your website. If you are using Linktree you are just adding another step before people can reach your website. A linktree bio link is taking your audience to a site that isn't yours with the hope that all of those work smoothly. Being a 3rd party tool you have zero control over it. That extra step is totally unnecessary and makes it more likely for you to have problems getting the people to your website (I can't tell you how many times I've clicked on someone's Linktree and it just hasn't worked).
Linktree Logo
The free version also has the linktree logo on the bottom. Let me ask you a different question, would you allow let's say a 3rd party logo on your website? If you are not allowing another brand logo on your website why should you allow a linktree logo in your bio profile?
Not your own URL
The link to your Instagram profile is a linktree link like https://linktr.ee/my_link – this takes away from your branding. The visibility of your URL diminishes. Always remember that Linktree is not a brand. It was considered to be a SPAM tool or even looked down upon as a cheap tool.
Hurts your SEO (Lower page ranking)
One of the key factors for SEO ranking is the bio link. Search engines in general index bio links. Having your website there improves your rank. I have been experimenting with SEO and I could rank "Turnkey Website" without any link building on the 1st page without any link building but just using my twitter profile and my bio link.
If You're Not Paying For It, You Become The Product

Megan Newman
All the effort that you make on your social account will help linktree and other bio services and not you! It's for this reason Linktree has got a higher ranking and became one of the top IG Apps.
NO GUARANTEE
Linktree links could be banned and/or marked as spam by Instagram at any time with no notice – leaving you with a broken link on your Instagram bio. This has happened before as recently as July, 2018 when Instagram temporarily recognized Linktree as against community standards.
No Personalisation
When you are starting your online business, you need to create a more personalized experience from your social media profile right up to your website. With Linktree you can't do that. It restricts the use of colors, photos, or let's say additional bio at the button of your links etc.
Cost Money
The pro version of linktree allows you to customize your color scheme and add a short description in addition to some other features – for a monthly fee. As an online entrepreneur, every penny counts and you could be doing the same thing for FREE on your own website or pay much less when you are using WordPress + GCH Micro Hosting. Linktree pro version will cost you 72$ per year. When you use GCH Micro Hosting you are only paying 25$ per year.
No Analytics or FB Pixel
3rd Party apps like Linktree give you no easy/free way to track analytics and figure out if your links are converting. There is no data that is being collected for a re-marketing campaign. A simple re-targeting campaign can be set up using FB Pixel within your profile bio link. This is a big set back when you can't re-market your services to people who have visited your profile links.
Here is what you should be doing instead
Enough of reason as to why you shouldn't have 3rd party tools like linktree. In this section, I will be covering what you should be doing instead.
Every online business needs an effective bio link page.

Megan Newman
If you are not using a Bio-Link page and just using a simple link to your homepage, you are missing out on the opportunity to offer multiple ways to connect with your ideal client and show them how you can help them – most importantly remarket yourself to them!
Purchase a domain name, for example via Geek Crunch Hosting
Decide on a website builder, and build your site. I use WordPress + Elementor as page builder

Host your Website with basic Micro Hosting
Or Create a custom Instagram Landing Page hosted on your own website!

Customize the page with your branding, logo, navigation bar, footer, and any other desired branding elements.
Include your photo or logo and bio below the links to personalize your landing page and make you STAND OUT FROM THE CROWD
Use FB Pixel, Google Tags etc. for each link and retarget people who click
Test your page. Do all the links work?
Get in the habit of updating this page every time you release new content.
Here is an example of how my Bio Link Page looks: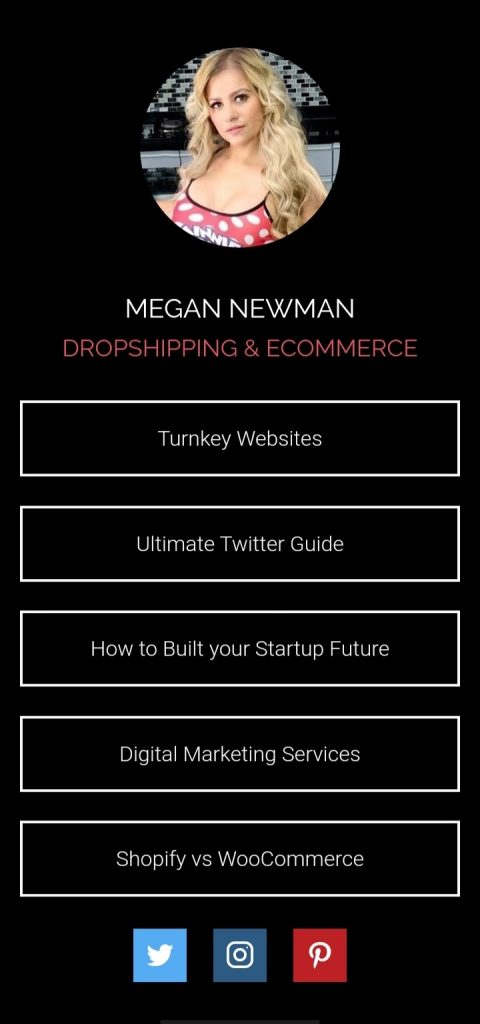 If you see my bio link there is a lot more of personalization that I can do with the same space. If you are a brand you can do a lot more branding with your colors. Below is an example of a brand page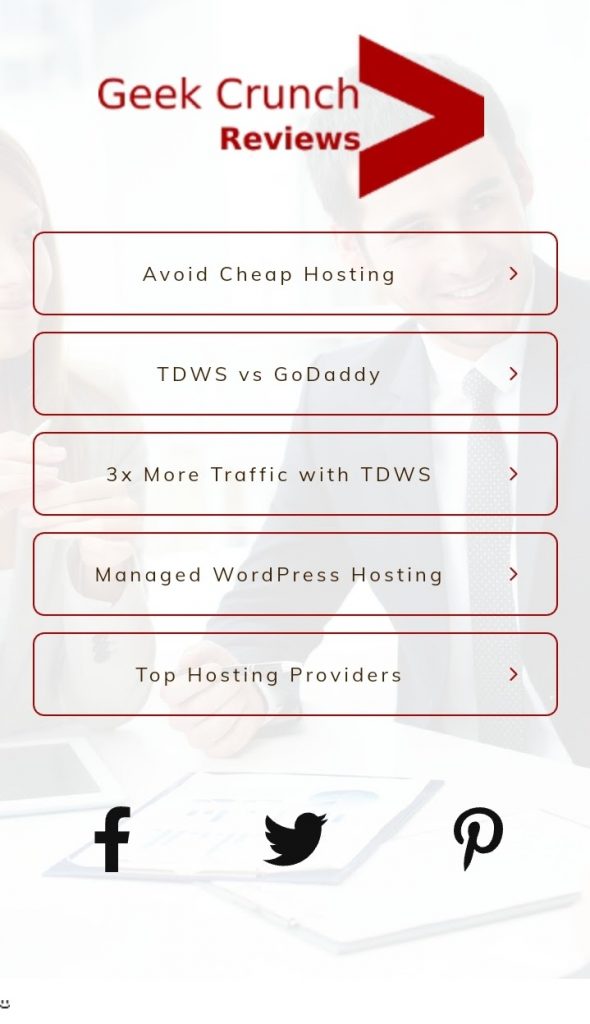 You can add another element of personalization by adding a mini-bio with your smiling face and an introduction to who you are and how you help people. Conclude this section with an invitation to connect with you using the links above and you will have crafted a premium, branded experience as someone's first interaction with you.
Whatever CMS or page builder you are using, you can quickly create a bio link landing page. All you need to do is create a new page on your website, optimize it for mobile and add your button & links to the page. That's it, your Instagram Landing page is ready. 
I have made it easier for you to create your Instagram Landing Pages – you can download ready-made templates for Elementor or Thrive Themes and import it to your website that's it you are good to go! or if you would like us to design a landing page for your Social Media bio you can choose a custom landing page service where we will design a highly effective IG profile page for you
Concluding Thoughts
Don't wait, your Linktree link might soon be blocked. The whole idea that Linktree has advertised that only link you will ever need – is a false narrative. As a marketer I always wonder why would I need linktree when I can build the link within my own website? Or have a custom domain for link that will cost me less than 30$ per year.
What I have done is made it easier for you to build your own bio-link page just buy the template and modify it and that's it. If you need a custom bio-link to be done, I will be able to get it done!
Related Service: