It is a common saying that it takes about 2sec for a website to start an engagement with the visitor. The 2sec clock starts when the visitors lands on a website. We live in an age where the first design impression is everything – from your Instagram Account to your webiste.
Just ask yourself this question, what will you do if you land on a website that was designed in 2000? You would leave immediately, because you wouldn't trust it. Today's day & age the website needs to be visually appealing.
Is Content Really The King
All digital marketing agencies, guru's everyone has peddled out this statement "Content is King". If you see the statistic a visitor on an average will either stay or leave your site within 2sec. The focus has chnaged from Content being the king to User Interface (UI) being the king.
It is more likely a visually appealing website will convert faster than a badly designed one! UI command authority, your viewer won't ever give your content the opportunity it deserves. The most significant visual component to your website and design are your photos & images that you use on your site.
Stock Photo's To The Rescue
The easiest way to build trust and authority on your website is by using professional photos. This is true for your brand, a business, or a blog. In professional media, there are two types of photos that you could use – stock photos that you license and your own photos.
Stock Photography
Stock photography refers to professional photos that you license to use. Some stock photography is royalty free, meaning you don't need to pay royalty fees or license fees for each use. Some royalty free stock photography is free, and others are paid.
There are a lot of Royalty Free Stock Images that you can get. Some of them are:
When we work with design agencies and their clients' that even the pricier options are worth it. Today Visual's are one of the most powerful pieces of the internet. Think of it, a great photo will have more chances to get viral on Instagram or Facebook – then a normal photo.
Select a perfect Stock Photo
"A picture is worth a thousand words" is an English language adage. It refers to the notion that a complex idea can be conveyed with just a single image/photo, this photo conveys its meaning or essence more effectively than a description does. Before you can select the perfect stock photo, you want to know and understand precisely why you need it. You can't know what you need without understanding why.
Primary goal to have a stock image is to elicit an emotional response. An engagement will be stronger if there is an emotional connect. This is how news stories are sold, they tend to create a strong emotional response, which will enable the users to share those stories and engage with the brands.
Let me show you some of the websites that we have designed where we have used both stock images and photo's that are clicked for the website.
Case Study 1: Power Day Sale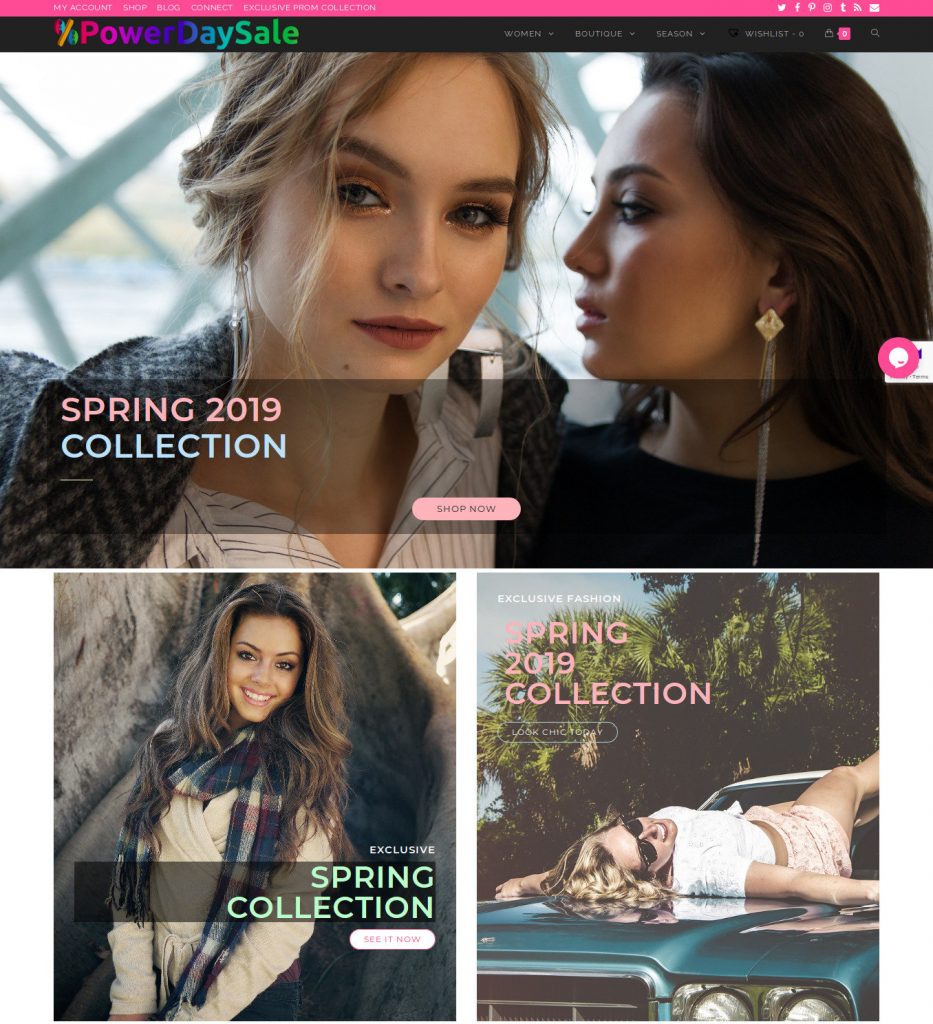 When we took up power day sale, it was bland website. Like a normal E-Commerce website where there are section and products. As expected the conversions were low.
What we did is choose images that visitors can connect with and can start browsing the website. Results were:

When you land on the homepage, the message is clear to look chic for spring of 2019. The first two section of the page itself tells the story and connects with the audience. Compare it with other Shopify shop, where only the products are displayed. When we pull up Google Analytics of those shops – the results, lower engagement and thus higher bounce rates.
Tangible results, Power Day Sale – started to get in higher ticket value sales. Their average ticket size was about 20$ which has now increased to about 75$, also added new volumes to the sales along.
Case Study 2: Wisetek Landing Page
Primary issue with Wisetek was that clicks were not getting converted to leads. Their previous Google Ads and Facebook Ads campaign were giving them traffic but conversion to leads or data collection was close to zero. They did get a a few "fake" leads. Beyond that nothing.
What we insisted with the clients is to click photo rather than use stock images. The narrative was that people should be able to trust a company who is going to be destroying their data. We moved away from using stock images and created an emotional appeal to with their potential customers. Results were just simply amazing. Without any changes to the Ads campaigns, the page started to generate leads. The cost per leads was at 8$ which was far cheaper than what their nearest competitors were getting a lead for.
Final Thoughts

Across the board we have seen a lot of people are not investing a lot into images or photo's. Most of the web designers will never focus on RIGHT photo for the client. There are websites that are done which are lower conversion because the designer just couldn't connect with their clients. The appeasement of the page with the Target Audience was missing. Unless this is not looked into carefully all your future digital campaigns etc will fall flat.
Knowing when to use stock photography vs. professional photos is entirely up to you, your audience, and the scenario. Understanding these methods have helped us immensely in creating high conversion WordPress Webiste or landing/sales/squeeze pages that convert customers.