Do you want to know the key to having a long-term profitable business? It's not having more customers. It's not having more traffic either. It's repeat customers.

Megan Newman
Study after study has shown that email beats out every other form of online marketing in terms of ROI. According to Adobe, email has an ROI of $40 for every $1 spent. That beats organic search and paid search combined!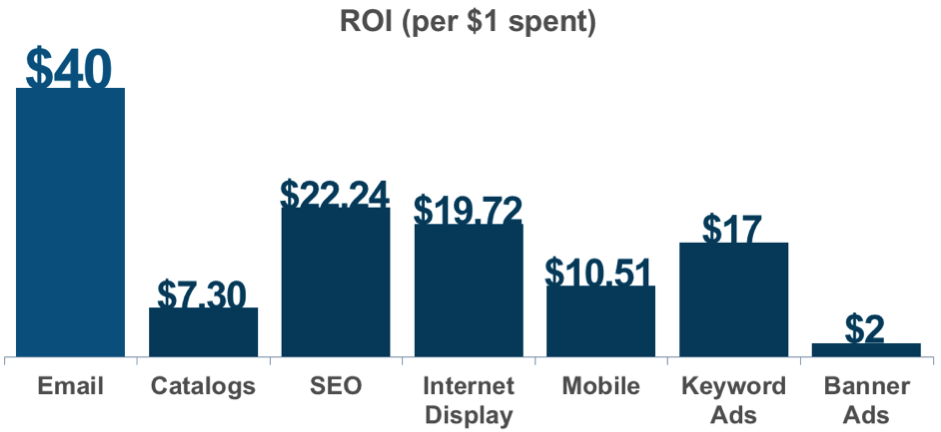 Getting a sales is a wonderful thing. Most of the entrepreneurs will stop their process after they get a sale. Sales process doesn't stop here. It's very important to think of the next steps. When compared with all the other forms of online marketing across all industries and niches, email wins the day. Always.
All business must know their customer lifetime value (CLV) – a prediction of the net profit attributed to the entire future relationship with a customer. It's not just about high ticket sales. For example, the CLV of a Toyta owner might be as much as $50,000 – this is based on the number of spare part or services that the car owner does over the life of ownership of the car. But a CLV of a regular coffee drinker might be even higher than that, depending on how many cups of coffee they drink a day and where they buy it.
Repeat customers are worth more than one-time customers – CLV will predict the profit associated with a particular customer relationship, which should guide how much you are willing to invest to maintain that relationship. Thus increasing the RoI for your marketing sharply.
"For a business to thrive, it must provide customers with long-term value that translates into repeat purchases and, thus, increases the customer's lifetime value to the company. And that is where carefully crafted post-purchase emails come in," says entrepreneur and marketer Danny Wong.
There are studies that show that although 58% of companies understand the importance of customer loyalty, they find it difficult to to retain them. Here are some proven techniques:
Make it easy for customers to return items they've purchased from you. Making it hard or expensive will significantly reduce the odds of them making another purchase.
Better shopping experience. This is driven via having to make sure that the website is easy to navigate and the same product can be found via different behavior paths.
Fast Loading Websites. Always ensure that your website is loading quickly and you have a high performance hosting that is backing your eCommerce store.
Set expectations regarding delivery dates, aiming to under promise and over deliver. It's much better to promise delivery by August 1 and have it in their hands by July 20th than the reverse.
Create a rewards program to encourage repeat purchases, with rewards that are both attainable and desirable.
Offer freebies for doing business with you, to build brand loyalty.
Use up sells to increase the average value of a customer transaction, which is the equivalent of McDonald's asking, "Do you want fries with that?"
Long-time customers want to know you haven't forgotten them. Make it easy for them to reach out to you as well. Automate your post purchase email campaigns.
You'll build a more profitable, successful business by focusing on attracting and retaining long-term customers who will become advocates for you, as well as repeat buyers.
This is how you can do that!
Build Subscriber List

Send Thank you Emails

Send Useful Information

Send Targeted Emails

Ask for reviews or social proof

Engage based on behavior

Send replenishment emails

Ask for referrals
Build Subscriber List
While a shopper weighs their purchase decision, create automated emails allowing them to join your subscription list by offering them a coupon or a discount.
Always, Thank them! When they join your subscription list. It'll make them feel welcome right away, and starts your relationship off strong. MailChimp automatically sends a beautifully branded thank you email minutes after you join their list.
Read More: How To Use Coupons And Email To Drive Higher Sales
Send Thank you Emails
A simple "thank you" goes a long way. Everyone likes to feel appreciated, and sending an email after a purchase lets customers know that they're not just another number. In the world of email marketing, relevancy matters to your customer. If it doesn't offer value or bring an inkling of benefit to the individual, there's really no reason why they should care. A "thank you" makes your email relevant. A follow-up "thank you" injects humanity and gratitude into otherwise faceless online transactions.
A "thank you" message after a purchase may include a receipt with the total amount, a status update about the delivery of the item, or contact information to connect with customer support. Customers desire transparency and want reassurance that they made the right purchasing decision.
"Keeping customers up to date with the status of their purchase, especially if there is a delay or another issue, is important. In fact, consumers decide not to do business again with a brand because of lack of transparency about the status of their purchase delivery,"

Alexa Lemzy
Below is a post-purchase email from Amazon. Along with the order total, you'll notice all relevant information about the order along with recommended items.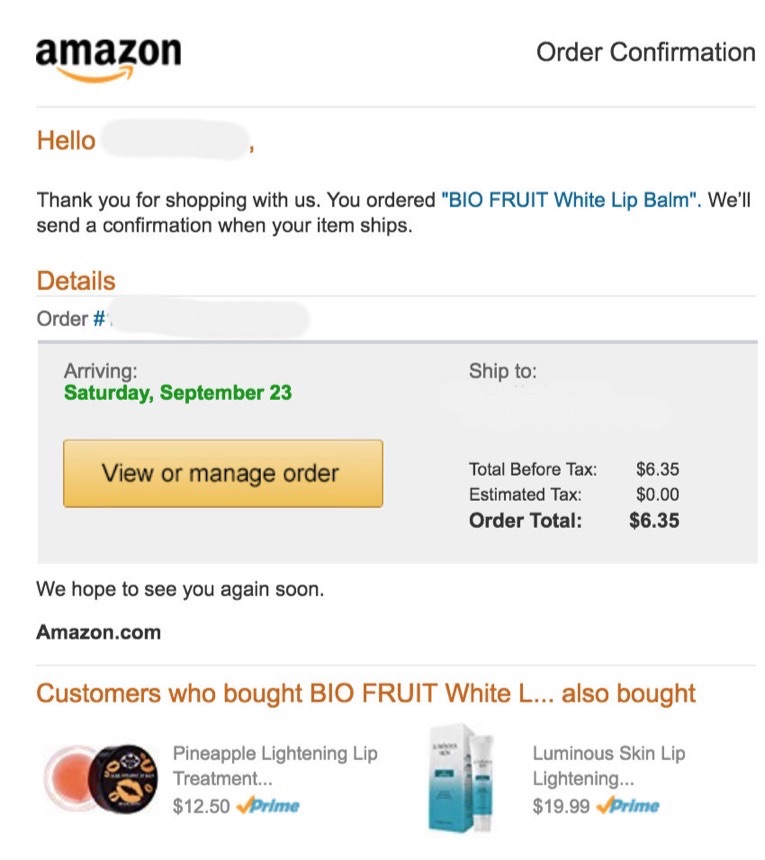 Almost everyone will ask why to create a post-sale email. My answer is simple – my goal is to exceed customer expectations by providing them a better shopping experience along with a message that addresses buyer's needs and interests.
Post-purchase emails see a 217% higher open rate and 500% higher click-through rate than other types of emails. A marketing agency we also noticed that customers who received post-purchase emails generated 90% more revenue than those who didn't.And "thank yous" aren't limited to sales.
Send Useful Information
Depending upon the products that you are selling. Customers might need additional information about understanding how to use your products or services. Sending them an email with Links to FAQ or explainer videos goes a long way. Sending emails with additional information customers can reduce the number of post-sale inquiries and product returns.
Apart from an email always provide instructions when shipping your product or have FAQs or documentation on your site. Never worry about doubling up – there's no such thing as helping your customers too much!
Having such emails will help you to built long term relationship with your customers and will enable your to increase your future sales with them.
Send Targeted Emails
Not every customer is the same – customer shouldn't feel they are part of bulk email campaign. You may cater to eight different buyer personas—each with distinct characteristics. So sending a generic post-purchase email will get overlooked by your audience. To nurture more customers, you'll want to use segmentation to send relevant emails.
Segmentation is the focal point to personalizing the post-purchase experience. You'll build better relationships quickly.
"Segmenting your email list helps you speak more intelligently and directly with your customers, giving them information that they want at the opportune time. And when you do it right, the payoff can be huge,"

Joe Stych, marketer at Zapier.
Segmentation enhances relationship building, giving you a chance to effectively communicate with consumers. You can drop the blanket language in your email conversations. For instance, a major holiday may be around the corner. So your team wants to send all new customers post-purchase welcome campaigns wishing them a wonderful holiday season.
Rather than delivering a bland message to every new customer, segmentation by location makes it possible to tailor your email to mention nearby festivities happening in the customer's area.
Ask for Reviews or Social Proof
Reviews and social proof improves shoppers trust. Kind words from a real person who hasn't been paid to say nice things about you are powerful. A study suggest that, nearly 95% of shoppers read online reviews before making a purchase. Reviews have a greater impact on purchase likelihood for higher-priced items than cheaper ones.
Our research found that when reviews were displayed for a lower-priced product, the conversion rate increased 190%. However, for a higher-priced product, the conversion rate increased 380%. As products begin displaying reviews, conversion rates escalate rapidly. The purchase likelihood for a product with five reviews is 270% greater than the purchase likelihood of a product with no reviews.
The aim here is to increase the number of review from "verified buyers:". Identifying purchasers with "verified buyer badges" enhances the credibility of a review and improves the odds of purchase by 15%.
Encouraging customer to share their reviews on social platforms can help consumers overcome the risk of buying expensive or unfamiliar items by sharing additional reviews for these products.
Engage Based on Behavior
Cross-selling and up selling are two simple ways to sell to existing customers. Previously, business made wild-guesses to customer behavior. They would send blanket emails based on such wild guesses.
It's very important to send post-purchase emails based on customer behavior, like purchase amounts, website visits to a specific product page, date of last purchase, or a combination of these actions. For example, someone buys a new phone from you, recommend a complementary product like a phone case or charger, or even a more expensive item like a laptop.
Shortly after buying phones, I see emails from same eCommerce companies trying to sell me another phone. This is where most of the marketing teams get it wrong. They try to sell the same product to the same customers.
This tweet itself talks a lot about what is wrong with marketing today! This is why it's important to understand your customer before the engagement starts. Pinpoint opportunities to customize your post-purchase emails. Sometimes it takes monitoring and understanding your audience's behaviors.
Send Replenishment Emails
This may seen quite a simple thing to do. But, sending a friendly reminder for a perishable or consumer goods – will always increase the customer loyalty and increase your sales. They're effective because they get people into the habit of buying from you. And habits, once in place, are hard to break.
For instance, you are into selling of body soaps/wash. Depending on the size of the soap/wash, you might want to send them a friendly reminder about a week before the soap/wash runs out. So if the shelf life of your soap is about 30 days, send them a reminder in 21 days allowing them to get their favorite soap before it runs out.
Ask for Referrals
Referrals from friends and family is the most creditable form of advertising. According to Nielsen 92% of people trust word-of-mouth recommendations. Referral marketing turns happy customers into brand advocates.
There have been a lot of success stories like Dropbox etc. where referral marketing have created wonders for them. Use a referral email to give them the push they need. You might even want to offer them a discount or free product when someone they refer makes a purchase.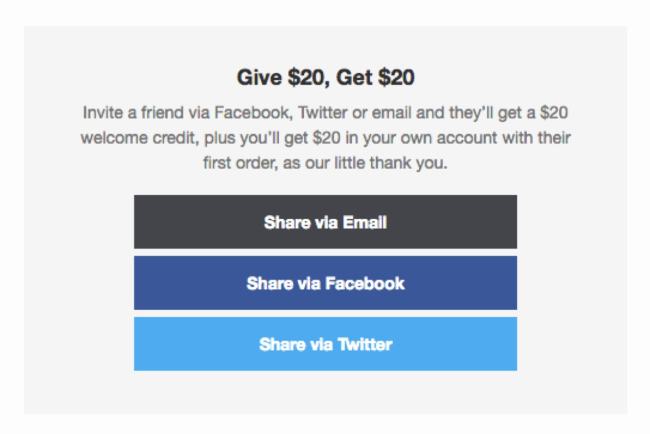 Within WordPress/WooCommerce there are many Referral plugins like AutomateWoo's Refer A Friend extension or WP Affiliate etc.
Evaluate Email Frequency
Everyone receives a lot of emails on daily basis. Having too many emails sent to your customers, they will start to ignore your emails or will simply unsubscribe from your list. So knowing how often to send an email is just as crucial as the content of that email. Swamping customers with emails isn't ideal. So assess the value of each message and whether another email helps or hurts your brand.
Your post-purchase emails can add up fast. There's the order confirmation, the shipping confirmation, the product review request, and the reorder email. And don't forget your five-part welcome campaign. Which means in less than a week you have sent out 10 emails to your customers. This leads to email fatigue.
To avoid email fatigue, simply by observing your engagement metrics. Check your open, click-through, and unsubscribe rates to spot any fluctuations in activity. Experiment with delaying general email campaigns until after a customer receives her post-purchase emails.
Power of E-Mails
Most of the marketing agencies use the emails only for pre-sales. Many forget that it's also an effective tool for nurturing customers into retention. Keeping in touch and putting your store front of mind ensures customers come back to you when they're ready to make their next purchase.
Revamp your post-purchase email by staying relevant to the recipient's needs. Send emails that engage customers based on their behavior, not unfounded hunches. And optimize your campaigns by running experiments.
There's power in email. Now, it's your turn.